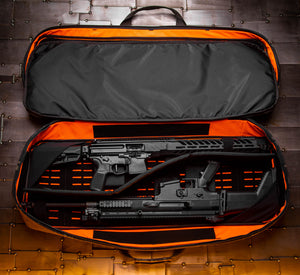 This is probably not the right case for you. You'd probably do better going to a large box outdoorsman store to pick up a made-in [insert dictator run country here] piece of shit polyester bag that fits your personality. You know, something with cool webbing all over or one with a big lightning bolt on the side. Add some cheap plastic buckles and straps to flail around and you're all set. 
Bottom line: clean design matters.
Too expensive? Don't send us an email complaining, just go buy this instead.
Ammo Can Hardware
Interlocking G-hooks designed and laser-cut in our workshop from 81mm mortar ammo cans ethically sourced by free-range country boys who liberated them from the diesel-fumed confines of a random assault vehicle.
Smell the Cordite
Velcro PALS Panel
Laser-cut internal PALS panels with a velcro facing to strap gear and weapons down or to inter weave MOLLE compatible pouches. The laminated velcro and CORDURA® fabric proves a study backing for organizing your kit.
I ♥ MOLLE
Laser-cut Precision
Precision matters and all of our patterns are cut in-house using our state of the art cutter from Kern Laser Systems - a US company making each machine in Minnessota
Check it out
Upper Compartment
ORGANIZE & EQUIP
Mesh pockets & full-panel velcro/PALS gives you full versatility to add mag pouches, store cleaning gear, organize tools, and even strap two rifles in the upper compartment.
Lower compartment
THIS IS MY BOOMSTICK
Store two rifles without bulky optics or one with a larger optic mounted. Corner 4-way stretch, movable pads, Velcro one-wrap straps and more keep your weapons secure.
SOFTSHELL / HARDSHELL
HYBRID DESIGN
Unforgiven's design gives both structure and protection formed through laminated fabrics, fiber board, adhesive films, and foam layers
Movable & Modular
FOAM PADS
Dense foam padding throughout the case combined with softer movable foam pads for added protection where it matters 
EXTERIOR FEATURES
MINIMALIST DESIGN
Sleek and clean external design also includes shoulder strap loops, a velcro area for patches, snap-secure carrying handles, and back-pack style shoulder strap attachment points
Military colors with accents
COLORS & PATTERNS
We've combined typical military exterior colors and patterns with internal accent colors to improve visibility and the overall design aesthetic of the case.
PAIR WITH THE NEW
ARMBAND 4.0
Perfect for navigation, long-range shooting, and keeping track of data for 3-gun shooting competitions. Use notecards or folded maps in the display, retain your pen for quick access, and adjust the ambidextrous straps for comfort for your whole mission or adventure.
Check Out Other Battle Board