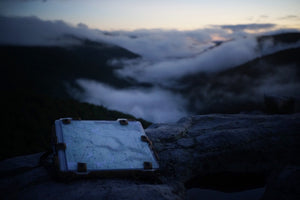 NEVER LOSE TRACK
Battle Boards facilitate operation tracking, navigation, construction plans, search and rescue, underwater survey planning and many other missions from life saving to recreational.
Professionals and organizations use our boards to save lives while overlanding travelers navigate to their next destination. What started with a military application has grown into an international information tracking and communications tool for every industry and market.
Start your next mission, journey, or adventure fully prepared with a Battle Board
SWIFT
Fast, light, and simple. Our patented quick-change system and protective writing surface combined with a durable backing.
See the Versions
EXPEDITION
Full featured board with storage and organization compartments for keeping track of gear and essentials.
Learn More
FiST
SWIFT + EXPEDITION = FiST
Our best selling and most functional system linked by opposing loops and straps.
Explore the FiST
NOTEBOOK COVER
BATTLE BOARD SCOUT
Cargo pocket sized case for maps, pens, and notebooks to display and organize at the same time. Track your mission or route on the go.
AVIATION
KNEEBOARD
Comfortable even during long-term wear, the abrasion-resistant polycarbonate display gives you a secure writing surface to keep all of your mission-critical close at hand. 

Fasten easily to your preferred leg with the G-hook that we laser-cut in-house from recycled 81mm mortar ammo cans.
FIELD FOLDERS
BI-FOLD | TRI-FOLD | FLIP-TOP
New high-tech materials, clean lines, velcro loop, elastic retention, and laminated fabrics highlight some of the new features on our extensive line-up of bi-fold, tri-fold, and flip-top notebook covers. From pocket-sized to full-sized binders, there's no zipper to get in the way of your writing here. 
BI-FOLD
The bi-fold FIELD FOLDERS are the simplest and most compact version. They feature a single spine, clear display, pen loops, and a notebook area and are secured by an elastic loop around the top and bottom.
FIELD FOLDERS
TRI-FOLD
Field Tri-folders feature a center panel between the two vertical spines for an additional mesh pocket storage. They secure using a retractable around-the-side elastic velcro strap. 
TRI-FOLDERS
POCKET FLIP-TOP
Our flip-top design mirrors the bi-folders and features corner tabs on the displays especially for notecards. The flip-top folders secure using a similar elastic loop over the top cover. 
FLIP-TOP FOLDERS
BATTLE BOARD
LEAF 4.0
We've fully redesigned the Leaf with next-level materials and techniques to make them more sleek, functional, and durable.
FULLY MADE IN THE USA
BATTLE BOARD
ARMBAND 4.0
Perfect for navigation, long-range shooting, and keeping track of data for 3-gun shooting competitions. Use notecards or folded maps in the display, and retain your pen for quick access.